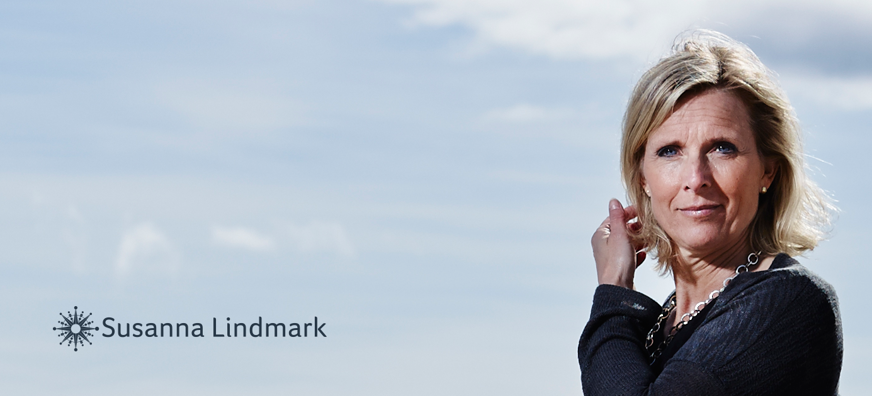 "En egen klangvärld i den nordiska traditionen med ett unikt tonspråk och ett signifikant sväng"...
GöteborgsOperan, Basilikagemeinde St Martin i Bingen, Tyskland, Norrbottensmusiken, Framnäs Folkhögskola, UNGiKÖR, Älvsbyns Församling och Arjeplogs Kommun
är exempel på beställare av Susannas musik.

Hennes stycke "We Are One" tilldelades i okt 2017
2:a pris i FSK´s, UNGiKÖR´s och Rosenborg -Gehrmans Stiftelses nationella kompositionstävling "Ny musik för Ungdomskör"


Kan gnistrande vårvintersnö i ett isblått fjällandskap bli till musik? Hur låter flammande höstfärger i fjällbjörkslöven eller fjälljokkens friska vatten som porlande kastar sig ner för fjällsidan? Vindar som lekfullt rör sig i trädens grenar eller vinterstormen som tvingande får fjällbjörkarna att borra rötterna ännu längre ner mot berget? Hur låter havets melodier och de mönster som sanden bildar av vågorna?

Inspirerad av bl a Lapplands mäktiga naturscenerier och himlafenomen skriver Susanna både musik och text.

Med udda taktarter skapar hon en organisk rytmisk energi och "groove" med influenser från både folkmusik och klassisk tradition och som en kompassros mitt i musiken finns texten, en självklar utgångspunkt.
Ett signum för Susanna är att hon ofta blandar noterad musik med improvisation - något som tillför närvaro och energi.

Susanna komponerar musik för kör och instrumentala ensembler av varierande svårighetsgrad, utifrån beställarens önskemål. Hon har också skrivit musik till barnföreställningar, nu senast "Sans och Balans" som turnerade i länet 2016.

Hennes produktion av körmusik har ofta riktat sig till unga körer och körer med damröster (SSAA), men även för blandade röster (SATB). Susanna har även skrivit musik för kör och symfoniorkester.

Susanna skriver både sakral och profan musik och har bl.a. tonsatt texter av den samiske poeten Paulus Utsi och den norrbottniska författaren Mona Mörtlund.



Många av Susannas stycken finns utgivna hos Bo Ejeby, Wessmans och Gehrmans förlag.

About Susannas music:

The Opera in Gothenburg, Basilikagemeinde St Martin, Bingen, Germany, Norrbottensmusiken, Framnäs folkhögskola, Arjeplog and the perish of Älvsbyn have among others, commissioned music by Susanna.

Her piece " We Are One" for Choir SSA and Cello was awarded
2nd prize in the National Composition Competition " Ny music for youth choir" that was held in 2017.

With chrystal clear harmonies, catchy melodies and dancing rhythmic energy that creates a sense of freedom,
Susanna composes with inspiration from,for example, the fantastic nature´s sceneries of Lapland;
the ravishing Nordic Lights, the Midnight Sun and the mountains and the archipelago of the Sea of Bothnia. You can also hear ethnic inspiration by the Sapmi Culture in her music.

Often organically using irregular time signatures, her music can be characterized as "groovy" and energetic and is influenced by both folk music traditions and the classical tradition. The lyrics are always the obvious starting point for the music and therefore a centerpoint like a compass rose.
Significant for Susannas music is also the combination of notated music and improvisation - that provides a high presence and energy to the music, and also are important parts of her method in working with choirs.


Susanna composes mostly for choirs and instrumental ensembles of different levels, according to the commissionaires wishes.
The main part of her music is written for choirs of equal voices ( SSAA) but she also composes for mixed voices(SATB). Susanna has also written music for Choir and Symphony Orchestra.

Susanna composes both sacred and secular music and has created music to lyrics by for example William Shakespeare, the sami poet Paulus Utsi among others. She also writes lyrics herself to her music.

Song of Hope - en sång som flyger över världen

På ett flygplan till Indonesien 2010 skrev Susanna stycket "Song of Hope" - en sång som sedan fått stor spridning och fortsatt att flyga över världen och sjungs av unga körer i så gott som alla världsdelar; Nordamerika, Asien, Sydafrika och Europa.

Song of Hope - travels around the world

On a flight to Indonesia in 2010, Susanna wrote the main parts of the piece "Song of Hope".
This piece has since then continued flying over the world and has been sung by choirs in almost every continent; North America, Asia, Europe, and Africa.

" I am deeply grateful and very happy that my song has taken this journey all over the world, and that all these fantastic choirs from all over this globe have chosen to sing my music."


Shakespeare-svit och 600-årsjubileum

I maj 2016 uruppfördes beställningsverket
"Ensam är du ingen" för Kör SSAA, Barnkör, stråktrio, klarinett och slagverk till texter av William Shakespeare på GöteborgsOperan i föreställningen Play On. ( Bo Ejeby Förlag)

Samma vecka uruppfördes också beställningsverket
"Song of Praise" i Basilika St Martin i Bingen Tyskland vid firandet av Katedralens 600-årsjubileum.
(Gehrmans Förlag)

I oktober 2016 uruppfördes hennes stycke Elements av Arctic Light på Osnabrück Castle inom festivalen Malgartener Vokalherbst och spelades in av Deutsche Rundfunk.

Shakespeare on Gothenburg Opera and 600th anniversary in Bingen, Germany.

In May 2016, the piece "Ensam är du Ingen"
( Alone you are noone) was premierly performed at
The Gothenburg Opera by the fine Descant - and Children Choirs of the Opera in the performance "Play On" based on William Shakespeare.
For this performance they had comissioned music by Susanna for Descant Choir, Childrens Choir, String Trio , Clarinet and Percussion.
The music is available at Bo Ejeby.

At the same time the piece "Song of Praise" was performed for the first time in Basilika St: Martin in Bingen, Germany, another comission for the 600th anniversary of the restauration of the Cathedral, by the choir Clara Voce. The piece is written for choir SSAA and Cello.
The music is available at Gehrmans.

In October the comissioned piece "Elements" had its premier performance in Osnabrueck Castle within the festival Malgartener Vokalherbst and was recorded by Deutsche Rundfunk.